The 23rd Annual Mulwala Classic will be held on 18-20th March. Registration will commence on the 17th at the Yarrawonga Holiday Park after 3pm in the marquee located on the grass area north of the office. No invite - no entry.
The classic competition will comprise of a 2 day event, followed by a dash for cash competiton on day 3. Entry fees cover tournaments, super draw, accomodation, meals, merchandise and entertainment. Various categories with excellent prizes provided by our wonderful sponsors. Over $18 thousand in prizes will be given away this year.
2016 Schedule :
Thursday – Registration at the Yarrawonga Holiday Park from 3pm (Corner of Piper Street and Burley Road)
Thursday night - Dinner, raffle & announcements
Friday 6:30am - Breakfast & lunch collection
Friday 8am to 5:00pm – Mulwala Classic Day 1
Friday night - Dinner, raffle & announcements
Saturday 6:30am - Breakfast & lunch collection
Saturday 8am to 5:00pm - Mulwala Classic Day 2
Saturday night - Dinner, Classic Presentation & Super Draw prize giveaway
Sunday 6:30am - Breakfast
Sunday 8:00am to 11:00am - LOWRANCE DA$H for CA$H (Presentation to follow)
2016 Rules :
Please review the rules on the Rules Page.. All competitors will be required to photograph their fish on the supplied measuring board for the Mulwala Classic & Lowrance Dash for Cash.
Important Competitor Information. Don't forget :
Digital Camera
NSW Fishing Licence
Tent (if not in cabin), linen, towels and refreshments
Tackle back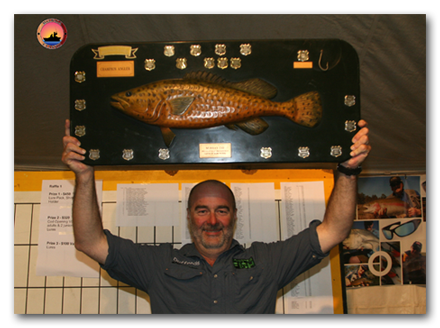 2015 Results.. Chris Burbidge consistently caught quality fish over the 2 days to take out the 2015 Mulwala Classic champion angler over a fast finishing Rick Doyle. Robert Vandelft and Warren Urquhart taking home the Da$h for Cas$h & Lowrance sounder.

2014 Results.. Michael Massier came home stronger than the rest of the field jumping from 4th to take victory from Stephen Deitrich with 24.13kg of murray cod. Roger Miles had another great year taking out the biggest cod on the first day with a 902mm, and winning the Da$h for Cas$h with partner Derek Blow.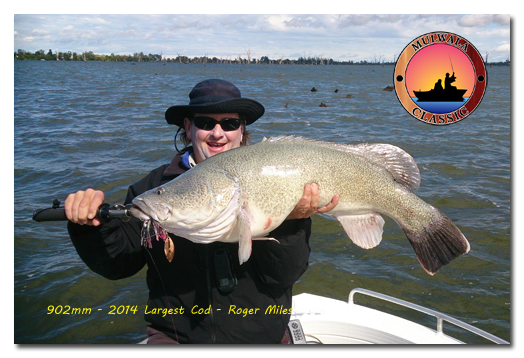 The 21st annual classic was held the weekend of the 23rd-24th March. Roger Miles took out 2013 classic champion angler with total of 24.8kg of murray cod caught over 2 days of competition. Runner up champion angler Cameron Jones caught 21.7kg of murray cod. Largest cod for the weekend was an impressive 91cm caught by Matthew McLean. More details..