2014 Results.. Michael Massier came home stronger than the rest of the field jumping from 4th to take victory from Stephen Deitrich with 24.13kg of murray cod. Roger Miles had another great year taking out the biggest cod on the first day with a 902mm, and winning the Da$h for Cas$h with partner Derek Blow. More info to come.
Event
The 22nd Annual Mulwala Classic will be held in April 2014. The classic competition will comprise of a 2 day event, followed by a dash for cash competiton on day 3. Entry fees cover accomodation, meals, boat launching and entertainment. Various categories with excellent prizes provided by our wonderful sponsers. Definitely a highlight of the season.
Entry forms will be mailed to competitors in December 2013. All completed entry forms and payment must be submitted before the end of February 2014.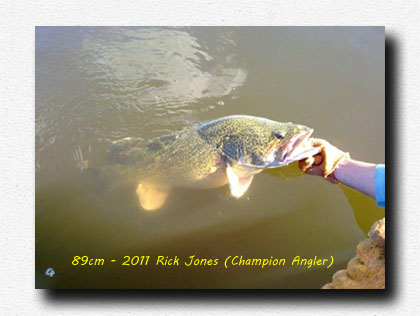 2014 Schedule :
Thursday – Registration at Shoreline Caravan Park (3pm onwards)
Friday 8am to 5:30pm – Mulwala Classic Day 1
Saturday 8am to 5:30pm - Mulwala Classic Day 2 (Presentation at 8pm)
Sunday 7:30am to 10:30am - LOWRANCE DA$H for CA$H (Presentation at 11:30pm)
Important Competitor Information. Don't forget :
Digital Camera
Live well or aerated container (min 60L)
NSW Fishing Licence
Tent, linen, towels and refreshments
A truck load of lures
2014 Rules :
The rules have been updated for 2014 which sees the reintroduction of undersize fish. All undersize fish will be given a weight of 1kg, which could make a big difference if its a close competition. More details..
Prizes :
Some awesome prizes will be available this year. The superdraw will see some magnificent prizes taken home. Big thanks to all sponsors who have contributed to the prize packages, make sure you do your part and support the classic sponsors.

The 21st annual classic was held the weekend of the 23rd-24th March. Roger Miles took out 2013 classic champion angler with total of 24.8kg of murray cod caught over 2 days of competition. Runner up champion angler Cameron Jones caught 21.7kg of murray cod. Largest cod for the weekend was an impressive 91cm caught by Matthew McLean. More details..